Higher Education Futures. 2022-present.
Developed with Jen Ross and Michael Gallagher, Higher Education Futures presents eight new speculative scenarios for the future of higher education teaching:
Extinction-era universities – AI academy – The universal university – Extreme unbundling – Justice-driven innovation – Return to the ivory tower – The university of ennui – Enhanced enhancement
The scenarios are provocations, visions and a starting point for new conversations about the future of our universities and the teaching we do through them.
We also wrote a collection of speculative short fiction, one for each scenario –  and use all the above in workshops, talks and other settings where we do collaborative future-making work with colleagues and students. Get in touch if you'd like to discuss us running a workshop for your organisation.
We also offer these resources to others who may wish to use them, in the form of tarot cards, posters and short story booklet. They are freely re-usable with attribution and can be accessed from the Centre for Research in Digital Education web site here.
GCRF Urban Disaster Risk Hub. 2019-24.
The GCRF Urban Disaster Risk Hub will work across 12 partner countries and 54 partner organisations to bring disaster risk management to the centre of global urban policy and practice, strengthening the voice and capacity of the urban poor. The project is led by Prof John McCloskey in the School of Geosciences. As one of the CIs my role is to advise on educational approaches to disaster risk reduction.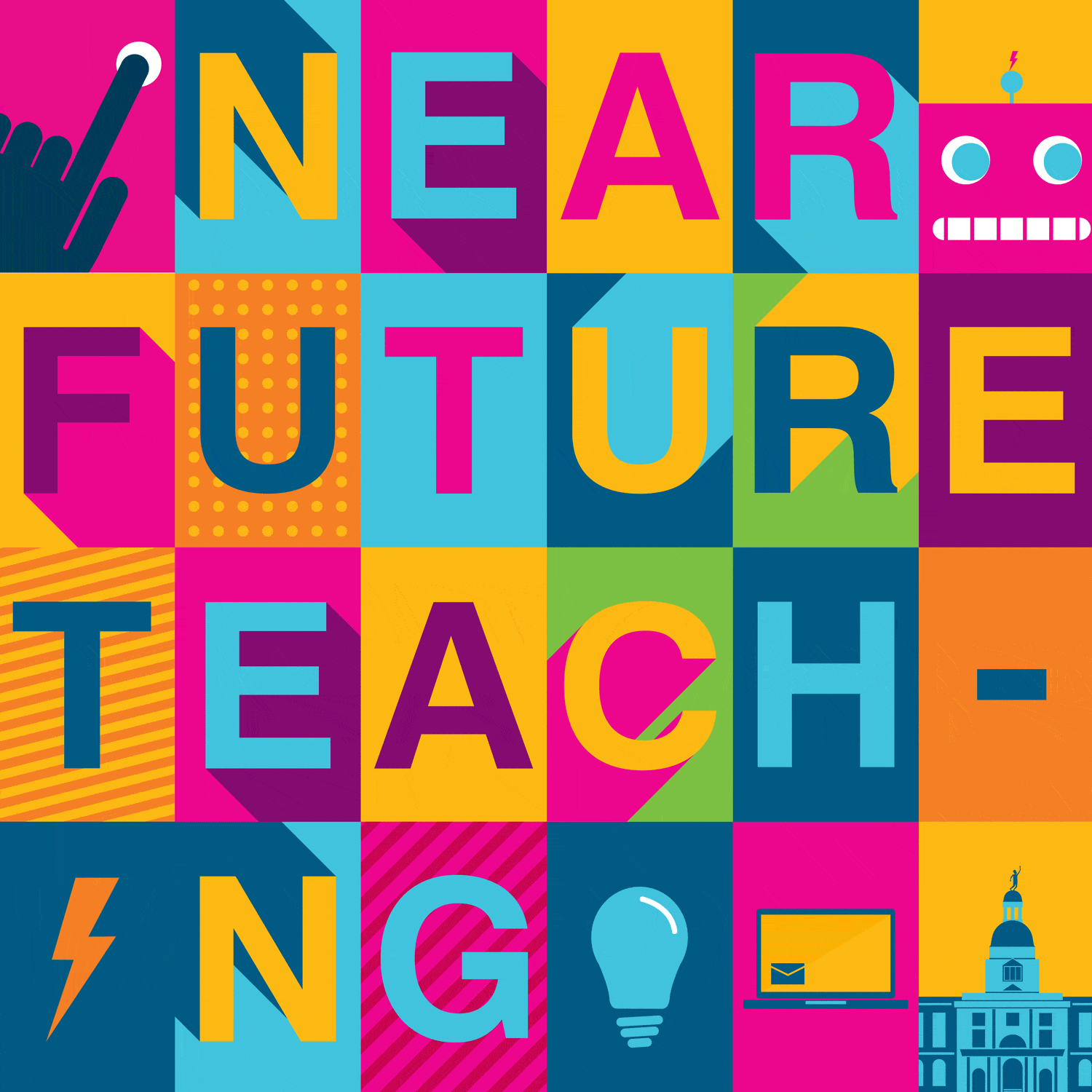 Near Future Teaching. 2017-19.

I led this project to co-design a values-based future for digital education at Edinburgh. Resisting the tendency to assume the future is determined by its technologies, the project is working with students and staff to build a shared understanding of the values that should shape the way we teach in the decades to come.
The project methods and outputs are all documented on the project web site: see them here.
Research for emergency aftershock response. 2016-17.
Correct community response to aftershocks reduces subsequent loss of life in earthquake-stricken areas but local response can be delayed or inhibited by social, cultural and political factors. Effective, large-scale user engagement with appropriate information, so essential in emergency response, requires work on developing public awareness at scale, designing effective co-learning across multiple stakeholder groups, and building a deep understanding of the social and gender issues which might limit, or enable, user engagement. This project was funded by NERC/GCRF and led by John McCloskey and Mark Naylor in the School of Geosciences at the University of Edinburgh: I led the education, learning and engagement strand of the work. More about the project here.
'A live pulse': Yik Yak for understanding teaching, learning and assessment at Edinburgh. 2016-17.
I was lead on this project which researched Yik Yak as coded campus space, aiming to build a better understanding of the teaching, learning and assessment priorities and concerns of Edinburgh students. The project team was myself, Nicola Osborne (EDINA), Louise Connelly (Royal (Dick) School of Veterinary Studies), Bea Alex (School of Informatics) and Claire Grover (School of Informatics). More about the project here.
Supporting Higher Education to Integrate Learning Analytics (SHEILA). 2015-18.
I was one of the Co-I's on this consortium project led by Dragan Gasevic. Funded by Erasmus+, it aimed to help European universities develop policy frameworks for learning analytics. There's some introductory material about the project here.
Coding the MOOC teacher. 2014-15.
This project was funded by the College of Humanities and Social Science Challenge Investment Fund, and was in partnership with colleagues in the School of Informatics and Edinburgh College of Art. We focused on developing applications which attempted to 'code in' something of the teacher function to the MOOC, and in doing so, we theorised some creative and critical futures for a MOOC pedagogy in which the 'teacher function' might become less a question of living teacher presence and more a posthuman mash-up of video, algorithm and automated process. This project developed our 'teacherbot': read more about this in my paper in Teaching in Higher Education.
Project partners were Hadi Mehrpouya, Jeremy Knox, Jen Ross, Christine Sinclair, Hamish Macleod, Chris Speed and John Lee.
ESRC seminar series 'Code acts in education'. 2013-14.
I was co-I on this ESRC-funded series led by Ben Williamson at the University of Stirling. It consisted of a series of seminars exploring how computer code is interwoven with educational processes, institutions, and practices, seeking to understand how code, and the software algorithms and digital data practices it enables, are shaping how, when and where learning takes place – in the classroom, the university, the professional workplace, and throughout the lifecourse.
There's more about the series on the web site, including Ben's excellent blog on the themes raised. Richard Edwards and Tara Fenwick, also at Stirling, were co-I's too. The seminar series issued a great e-book, edited by Ben.
Higher Education Academy commission 'MOOC pedagogy: the UK view'. 2013-14.
I was commissioned, along with Jen Ross, to produce a report on current movements in MOOC pedagogy in the UK. The report is available here.
Putting art on the map. 2013-14.
This project was funded from a NESTA Digital R&D award, and was a partnership between the Imperial War Museum, Historypin and the University of Edinburgh. The project looked at how members of the public learn from the crowdsourcing of metadata around the Second World War art collection of the Imperial War Museum. The project report and findings are available on the NESTA web site here.
I led the research strand of the project, with Hamish Macleod, Jen Ross and Michela Clari as co-investigators.
Digital engagement and cultural heritage education with the Scottish National Collections. 2013.
This project was funded by the AHRC Cultural Engagement Fund. It carried out a programme of knowledge exchange with the National Galleries of Scotland, the Royal Commission on the Ancient and Historical Monuments of Scotland (RCAHMS), National Museums Scotland and Glasgow Museums.
The researcher on the project was Michela Clari.
Digital Innovation in Cultural Heritage Education: knowledge exchange with the Scottish National Collections. 2011-12.
This project built on the research outputs of Michela Clari's AHRC Collaborative Doctoral Award In the Hands of the User, which investigated changing patterns of participation and learning through the digital collections of galleries and archives.
Michela Clari was the researcher on this project.
New Geographies of Learning: distance education and being 'at' Edinburgh. 2011-12.
This was a project funded by the University of Edinburgh Principal's Teaching Award Scheme. It researched how location, mobility and connection to an institution is felt by students who are studying at a distance from their home university. Using a 'mobilities' perspective, it asked: what does it mean to be a student at Edinburgh who is not in Edinburgh? See our visuals and outputs from our web site.
I was PI, working with James Lamb, Michael Gallagher, Jen Ross, Hamish Macleod and Clara O'Shea as partners.
The digital futures of cultural heritage education. 2010-11.
Funded by the Royal Society of Edinburgh, the Digital Futures of Cultural Heritage Education project ran a series of workshops and seminars in partnership with the Royal Commission on the Ancient and Historical Monuments of Scotland, National Museums Scotland and The National Galleries of Scotland. The project worked with the Scottish museum and gallery sector in order to establish a research agenda for digital museum and gallery education.
I was PI working alongside Jen Ross and our colleagues from the cultural heritage sector.
ESRC seminar series 'Literacy in the digital university'. 2009-11.
Led by Robin Goodfellow at the Open University, the Literacy in the Digital University seminar series aimed to develop new thinking and methodologies for researching digital practices as literacy.